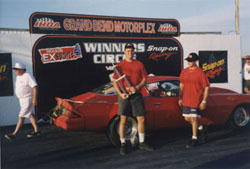 Accomplishments
Winner of the 1996 Super Street Flowmaster Cup - Mid Michigan Motorplex
3 time #1 Qualifier & 2 time Event Winner in the 1998 Ontario Street Car Assoc. Series
#8 in points - 2000 Season NSCA Super Street
10th and final member of the Flowmaster 7-second Super Street Club Joliet, IL 2000
#3 in points - 2001 Season NSCA Super Mod
Set NSCA Super Mod National Elapsed Time Record - 7.75 seconds - Grand Bend, Canada 2001
#3 in points - 2002 Season NSCA Super Mod
Set NSCA Super Mod National Elapsed Time Record - 7.62 seconds - Columbus, OH 2002
Awarded the NMCA's prestigious "Best Engineered" Race Car Award - Columbus, OH 2002
Awarded the NMCA's prestigious "Crew Chief of the Year" to Jeff Prock - NSCA Banquet - Indianapolis, IN 2002
#7 in points - 2003 season NSCA Super Mod


History of Pelech Bros. Racing

Pelech Bros. Racing is led by Ted and Tim Pelech. Both are Design Engineers by education and profession for major tier-one suppliers to key OEM automobile platforms. They have both lived in the Detroit area their entire lives which might explain why their interest in automobiles and racing started at very young ages.

Somewhere around age eight, Ted was exposed to professional drag racing one Saturday morning when he stumbled upon a Wide World Sports broadcast of the U.S. Nationals. From that point on, when most kids were watching Saturday cartoons, Ted was relentlessly combing the channels in search of the drag racing that, at that time, would only be shown a few times a year. In his teenage years, Ted interests naturally continued down the path of automobiles and racing. His first car was a 1978 Camaro which he immediately began to modify with drag racing in mind. Not long after that, Ted competed in his first drag race when he entered the Street ET Bracket for the 1990 Chevy All-Star Weekend at Metro Detroit's Milan Dragway. The proverbial "hook was set" when he won the event. The next year, Ted waded through a 70+ car field for a semi-final finish at Martin, Michigan's US131 Dragway Super Chevy Show. It was while competing there, Ted got his first taste of fast, "Heads-Up" style, racing while watching the wild Pro Mod Shoot-Out.

Ted wanted nothing more then to race and he realized he would need a well paying job to support his racing. 9 days after graduating high school, when most kids were taking summer vacations, Ted began the first semester of a design & engineering program at a local Michigan college. About the same time, a teen-aged Tim Pelech began to work at a north-Detroit race car fab shop where Ted once worked.

In the Fall of 1993, Hot Rod Magazine and the NMCA contested their first "Fastest Street Car Shoot Out" in Memphis, Tennessee. It was at this point that destiny was set for Ted's '78 Camaro. The Pelech Bros. immediately set out to convert the relatively docile street Camaro into a full out, fire breathing, nitrous oxide injected drag racer, while still maintaining the street like appearance that was required by the NMCA and Hot Rod Magazine.

In the Summer of 1994, Tim would again follow in his older brother's foot-steps by enrolling in the same design & engineering program that Ted had just completed.

In 1995, the Pelech Bros. would compete in their first NMCA/Hot Rod magazine Shoot Out and they would continue racing in the NMCA series for the next few years with moderate success including winning the prestigious Flowmaster World Cup in 1996 and dominating the Canadian Shoot Out Series in 1997.

It was the fall of 1998 when Ted & Tim set out to build a more competitive race car. After painstaking research, they determined that a 3rd generation Camaro would best suit their purposes. In November of 1999, the Pelech Bros. debuted their freshly finished 1990 Camaro to rave reviews at the Performance Racing Industry Trade Show in Indianapolis. The following Feburary, they rolled their new race car into the starting beams at West Palm Beach, Florida's Moroso Motorsports Park.

Since that time, the Pelech Bros. Racing team has went on to many #1 qualifying positions, several event wins, and set two national elapsed time records in the NMCA Super Modified class. The Pelech Bros. Racing team is now looking to accomplish the same and more with their return to the competitive ranks of Super Street in 2005.

At the Shop and at the Track

Pelech Bros. Racing is based out of a 4,500 square foot shop in the northern Detroit suburb of Centerline, Michigan. Their shop is well equipped with many of the amenities that you would expect for a self-sufficient racing operation. The Pelech Bros. Racing shop does no outside work. This assures that there are no external distractions and that their focus remains on their business associates and on their own racing efforts.

In the pits, Pelech Bros. Racing has the cleanest and best equipped operation that again contains many of the amenities that you would expect for a self-sufficient racing operation. Presentation and appearance is a large part of successfully promoting the business associates of Pelech Bros. Racing and they strive to have the best appearing, best presented, and most professional team in the pits and on the track. This assures that the focus of those attending each event is on the business associates of Pelech Bros. Racing.